Repair, Renovate, Remodel – What Pays Off
As a homeowner you might find yourself wrestling with decisions about the three 'R's of home ownership: repair – renovate – remodel. The problem is that deciding what to do and when to do it could depend on the available budget and on your long-term plans for the house, live in it for many years or sell and buy somewhere else. The terms might do with some definitions:
Repair – you fix what you have, restore what has been damaged, return it to good working order.
Renovate – you restore to a previous condition or refresh and update the appearance.
Remodel – you change the design, structure or purpose of some aspect of your house. While repairs and renovation might be DIY projects, remodeling usually entails bringing in professionals and perhaps getting permits.
There are many variables in the link between remodeling and recouping costs on resale. This infographic gives some useful guidelines, but guidelines only, on remodeling projects with the greatest returns.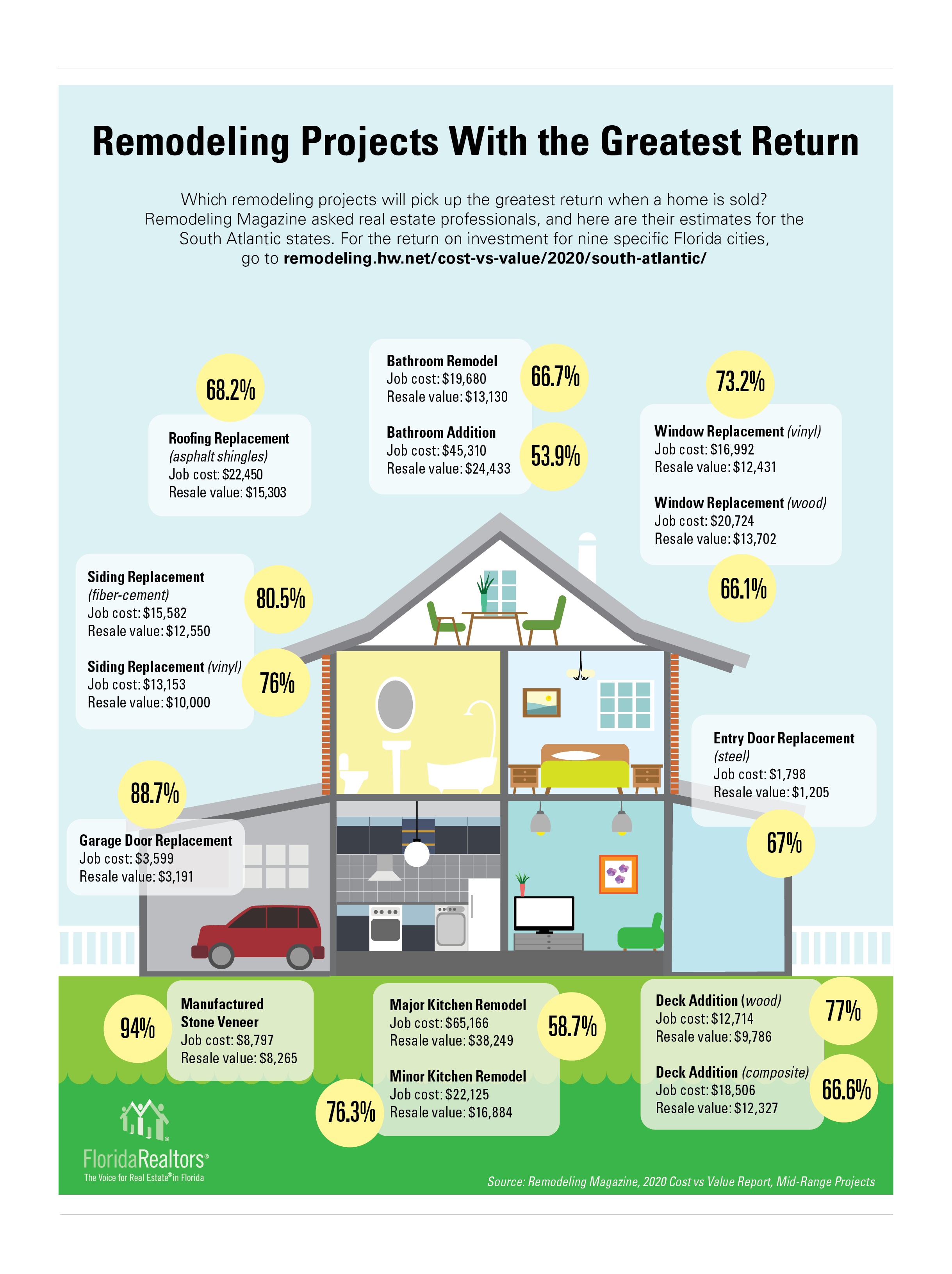 If the roof is leaking, repair is the most urgent concern. Should you repair the old wood-shingled roof you have, or replace it with an eco-friendly material like asphalt shingles?

If you decide to move from repair to remodel with a brand-new roof, here in South Florida there are two special considerations you might factor in – new 'cool' roofs are made of material for high solar reflectance which should help to keep your home cooler and lower your air conditioning costs. The other concern is storm resistance and again, there are choices with, for instance, a range of metal roofing that promises to give major protection against wind and rain.

As the infographic shows – if you sell your home you will recoup at least 68% of the cost of the new roof.
Siding. Replacing old or damaged siding attracts the highest return of any remodeling project 76-80.5%. New siding can really refresh and update the look of a house and enhance its curb appeal. While vinyl siding is very popular, there are many other materials to choose from. Among them, fiber cement is the code compliant choice in Florida as it is low maintenance and stands up to fire, weather and insects.
Garage Door. Because the garage door is probably the largest single-entry point to your home it is important to keep it in good repair. In Florida, the concern is not only to have an attractive door to add to your curb appeal, you will also want an impact-resistant door to protect against storms and hurricanes. You could recoup up to 88.7% of the cost of an updated, remodeled garage door.
Front Door. The front door is a key factor in curb appeal and if planning to sell, you might consider a simple renovation with a fresh coat of paint. However, if you remodel, with say a new steel door, you can expect to recoup 67% of the cost, on resale.
Bathrooms. Remodeled bathrooms and bathroom additions figure high on most home buyer's lists, and interestingly, the recoup rate is higher for bathroom remodels than bathroom additions.
Regardless of the recoup rate, as with kitchens, bathroom renovations and remodeling rate high on the improved comfort and livability scale for homeowners who intend to remain in their homes.
.

Much has been written about kitchen renovations and remodels partly because they can take a major bite out of the budget, also because the resulting design and layout may not appeal to a new home buyer. A minor kitchen remodel, probably including new countertops and upgraded, energy efficient appliances might well recoup more than a major kitchen remodel, that might include structural changes such as switching to expensive flooring and countertops, putting in an island or adding a skylight or new windows and doors.
Remodeling for security – In Florida, replacing old windows and doors with new, impact resistant options will very likely pay off on resale because of their storm resistance potential and code compliance. Such a remodel also modernizes a home, improves its energy efficiency and adds to its curb appeal.
Remodeling to add or re-purpose existing space – So much has changed and is changing in the world of home-ownership. The multi-generational home is a reality, with parents, adult children and grandparents all living under one roof. Non-familial parties are also sharing homes that is, two or three friends or work colleagues decide to buy a home together and share expenses. Work situations are also changing with tele-commuting highlighting the need for home work spaces. Not surprisingly, a remodel that brings good resale return is the addition of a deck to extend outside leisure space.
Whether you choose to repair, renovate, remodel or go through all three of these options, everything you do to keep your home attractive and in good repair will pay dividends. These may be monetary, in improved resale value, or equally important, they may provide more comfort, enjoyment and security in the here and now.
If you are planning to sell your Florida home, call me today at: 954-295-9282.