How to Buy in a Sellers Market
Most real estate analysts agree that S. Florida is currently a sellers market, that is, sellers control the market because with limited listings, properties are in high demand. One reason is that there is an influx of potential buyers from out-of-state and from abroad because the news is out that S. Florida is a very desirable place to live. The previous image of Florida as the retirement haven has expanded to include young families and singles, drawn by the mix of low-density cities, great education and leisure facilities, expanding job and investment markets, well-kept neighborhoods and beautiful beaches.
Although there is a very active construction sector, with all types of new builds coming on to the market, there are also investors rushing in to snap up these properties, effectively moving them out of the market before the average buyer can put pen to contract.
In the existing housing stock, buyers are faced with tremendous competition for the properties they want. Tales abound of would-be homeowners offering above the listed sales price and its evaluation, and making all sorts of concessions to the owners to get their contract signed.
How can buyers get what they want in this market?
Work with an experienced realtor
It is always a good idea to work with a realtor and this is especially true in a sellers market. A good realtor knows all aspects of the local market, both its housing stock and its communities. Also work with the real estate team which includes the mortgage broker, title company and property inspector. This team wants to see you get the property you want and, as speed in offering and closing on a property is essential in this market, your team will be key in moving all steps of the process smoothly along.

Expand your search
Be prepared to look further afield than in your original preferred zone. S. Florida cities have grown in the last decade and many have improved infrastructure and social amenities. Also, some older neighborhoods have undergone gentrification with older homes now beautifully restored.
Your realtor can suggest alternative neighborhoods that contain homes with your preferred features. You may also consider being flexible on your list of preferred features, for instance, giving up an extra half bathroom for a house you love in a location you had not previously considered.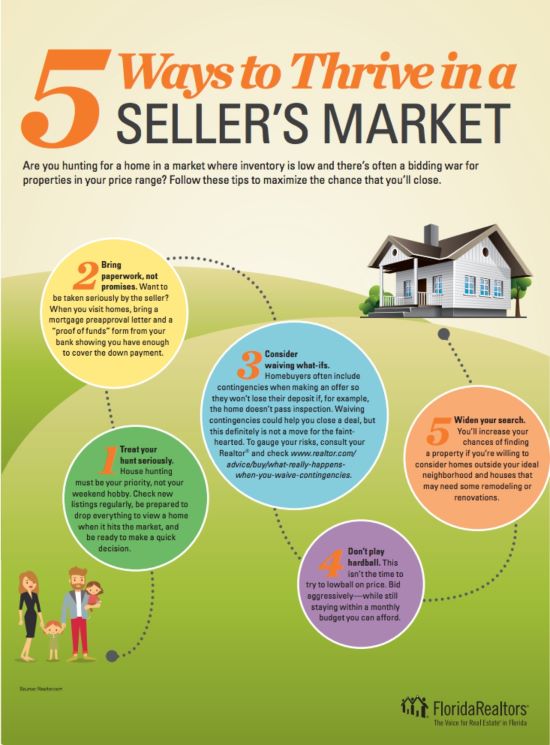 Come Prepared
Most important in this tight market is the need to take your home hunt seriously, being ready to respond quickly when your realtor calls with a good listing. Also, it's really important to come prepared with a current written pre-qualifying letter from your mortgage broker. This signals to the seller your good financial standing and your readiness to buy. The mortgage broker who has all your details already in the 'system' can then move promptly to help you quickly secure the mortgage within the sales contract deadlines.

Up the Ante
Cash buyers are very popular with sellers as not having to go through a mortgage process shortens the time between contract and closing. If you are not a cash buyer, to get your offer accepted, try increasing the size of your down payment. A 10-20% down-payment is the industry average so any improvement on that signals your seriousness to buy to the seller.
Your realtor can advise on what percentage of the down-payment should be offered as the deposit or earnest money when the contract is signed.
It is very important to go through the contract
with your realtor so you know the contingencies
and the deadlines that must be followed so you can recoup
your deposit if the sale falls through.
With tight competition, some buyers are offering way over the listed price and cash buyers can offer to go above the valuation. Should you offer to go above the valuation? You may want to look at the whole neighborhood to see if the area is improving, both in appearance and amenities. You might also consider it if you have long-term plans to live in the property which might see the valuation rise over time.

Cut Contingencies add Concessions
One contingency unpopular with sellers, is the one where you can only buy if you can sell your present home, and you may want to waive contingencies that require the seller to repaint, change an appliance or do some fairly superficial repair.
However, the inspection contingency is very important, so don't give that one up. Even in the most pristine looking property, an inspection can show up problems that may need extensive and expensive solutions.
A concession to consider might be to offer to close quickly on the property but 'rent back' the home to the sellers for a stated time if they need time to relocate or close on their new home.
Yes, it is a sellers market, but South Florida has an abundance of good options for serious home buyers.
To find your Florida dream home – call me today: 954-295-9282